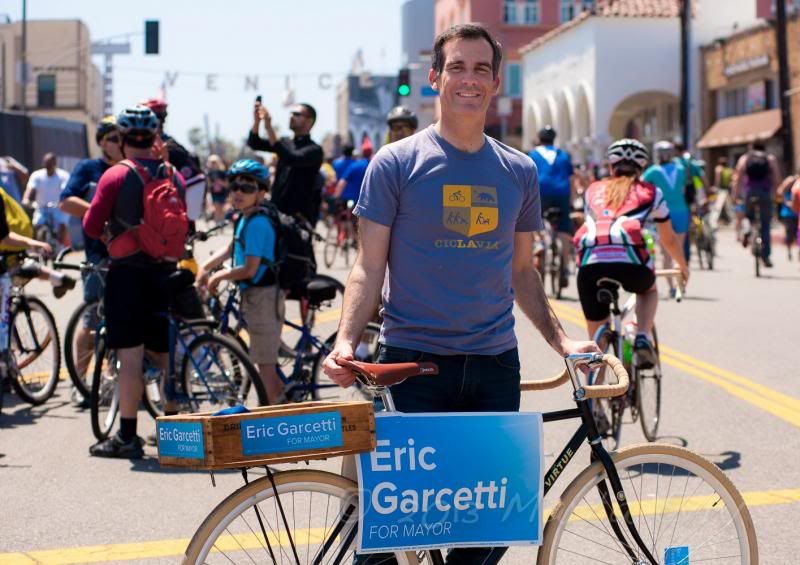 Candidate Garcetti at CivLAvia. Photo: Marta Evry
For Los Angeles voters, there is light at the end of the tunnel: Only four weeks remain until the city finally elects a new mayor to replace Antonio Villaraigosa. Ballots are hitting mailboxes this week, and the sprint to the finish has begun.
Councilmember and former City Council President Eric Garcetti won the March 5 primary election by a hair over four points over his general election opponent, City Controller Wendy Greuel. The big question at that point was: who would win over the voters of the three major candidates--Jan Perry, Kevin James and Emanuel Pleitez--who didn't make it? So far, Garcetti seems to be winning that battle: all three of those primary opponents endorsed him, and the latest Los Angeles Times/USC poll shows him with a 10-point lead over his rival as mail ballots drop. The poll indicates that in most cases, Greuel is failing to win over the bases of support she is depending on for victory: Garcetti leads among women, even though Greuel has made gender a key selling point in her campaign. She is effectively tied with Garcetti in the San Fernando Valley, which should be her base. And perhaps most troubling, Greuel actually trails among Republicans by a wide margin, when conventional wisdom early in the race dictated that Greuel would have natural advantages in that constituency against Garcetti, who is widely viewed as a progressive liberal. Instead, the poll indicates that Greuel's dependence on $3 million in independent expenditure spending from the Department of Water and Power union, IBEW, is damaging her standing with a constituency most observers would have expected her to win.
"That's an untenable situation for Greuel," said Dan Schnur, director of the USC Sol Price School of Public Policy/Los Angeles Times City Election Poll.
It most certainly is an untenable position. And Greuel is responding the same way most candidates in an untenable position would respond: throw absolutely everything at the wall, and see if anything sticks.
The rollout of Greuel's hard negative campaign, however, didn't appear to go so well. The campaign built a childish attack site against Garcetti that listed essentially every single negative attack the campaign has ever used, but also included some personal attacks, like calling him a "trust fund kid" who has "never had to work a day in his life." The site was discovered by the media, whereupon the Greuel campaign subsequently password-protected it. Of course, the site might have been a signal for Greuel's independent expenditure allies to unleash their own negative attacks: WOMEN VOTE!, the political arm of EMILY's List, has already spent over $80,000 on mailers with negative attacks on Eric that closely parallel the message of the Greuel campaign's attack site.
Greuel also made a massive television buy last week, spending $700,000 for a positive piece touting her endorsements. But what ran instead during the second half of that buy was a hypocritical negative ad on digital billboards. (Funny side note: all the digital billboards in the ad have actually been deactivated by court order.)
And perhaps most amusingly, Greuel's camp is also realizing how damaging close affiliation with the unpopular Department of Water and Power can be. A close Greuel ally, former Controller Rick Tuttle, filed an ethics complaint yesterday in advance of last night's televised debate between the two candidates, alleging that back in 2009, Garcetti postponed an audit of the DWP that might have reflected badly on a ballot measure that both the DWP, Eric Garcetti and Wendy Greuel were all supporting. The aforementioned Jan Perry, whose committee was responsible for the hearing, has said that the accusation is bogus. Not that it matters to the Greuel camp: the mere filing of the complaint gave Greuel cover to claim during the debate that Garcetti "was under investigation" for ethics violations.
Not that it mattered: NBC-4's political analyst Sherry Bebitch Jeffe said that Garcetti was the clear winner of last night's debate because voters want to see specifics about policy, rather than negative attacks. But we can expect the negativity to continue from the Greuel campaign: they're in full "spaghetti-on-the-wall" mode, desperately hoping that something will stick.
Note: This opinion piece reflects solely the viewpoint of the author, and does not constitute a Calitics.com editorial.